Experience the Ultimate Hair, Makeup, Nails & Bridal Services at Vipul Chudasama Salon
Get Picture-Perfect Hair and Makeup by Our Award-Winning Team
High-Quality Products to Ensure the Best Results for Our Clients
Our Story
Vipul Chudasama, a true game changer in the hair and salon business, has seen tremendous success with his three endeavors – Salon, Academy, and Consultancy.
He believes People, Products, and Tools are the key to any successful business.
For over two decades, Vipul Chudasama's name has been synonymous with Indian hairdressing excellence. He started as a hairdresser and quickly rose through the ranks to become a visionary entrepreneur with sharp business acumen. His expertise in the salon industry and hair education sector is unrivaled; having led more than 520 illustrious hair shows, seminars, and exclusive masterclasses, he has also imparted his wisdom to more than 52K hairdressers worldwide.
Personalized Experience
We consider every guest our favorite and strive to provide exceptional service. Come and experience it for yourself.
Professional Care
All products we use are professional and have proven effeciency. No compromises.
We Love What We Do
People that you'll meet in our boutique salon are doing job they love. Join us and experience the difference!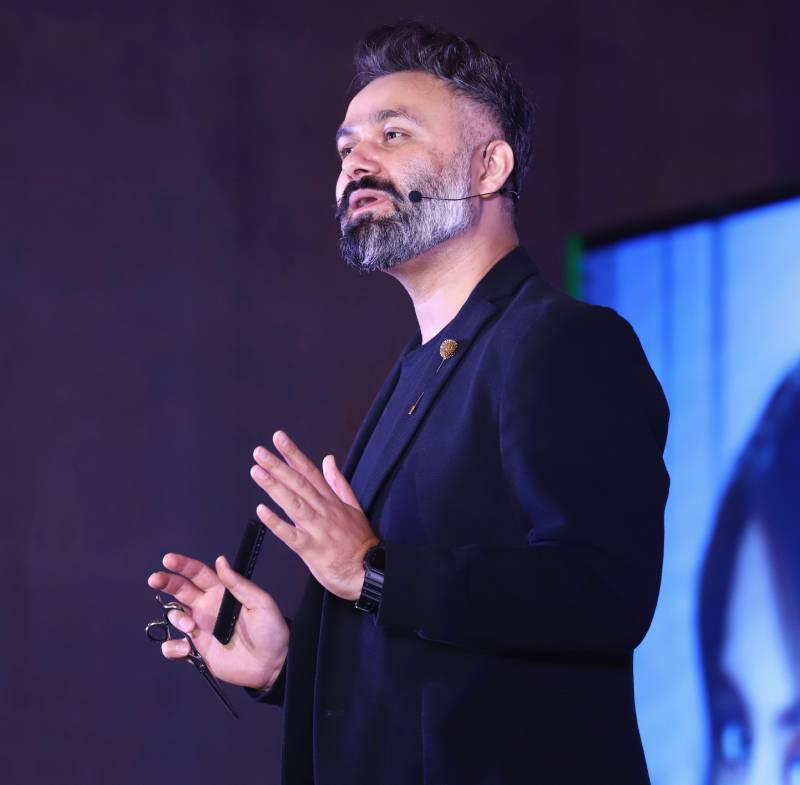 Academy
Welcome to the VC Academy, where Education, Creativity, and Transformation are at the core of what we do. Our vision is to blaze a path in the hair and salon industry. We encourage our students to explore creative possibilities and break through conventional boundaries.
As a brand, we are committed to transforming the hair and salon industry as a whole. The industry should be more inclusive, sustainable, and socially responsible. That's why we strive to instill these values in our students and equip them with the knowledge and skills they need to impact the world positively.
Our courses are certified according to ISO 9001:2015, 21001:2018, and 29993:2017 standards.
Join us at the VC Academy and become part of a community dedicated to education, creativity, and transformation. Together, we can lead the way in shaping the future of the hair and salon industry.
Bridal & Fashion
As the Academy's Educator & Makeup Director, Pooja Chudasama is a skilled professional in the art of makeup. She has worked in various settings such as fashion, editorial, film, television, bridal, and special events. Her exceptional eye for detail and comprehensive understanding of color theory and skin types ensure that each client receives the utmost attention and care. By staying up-to-date with the latest trends and techniques, Pooja is dedicated to providing her clients with the finest makeup and bridal services available.
Gift Card
When unsure what gift to get, consider a VC Gift Card, as it's a great option. Our gift cards have no expiration date and can be used to pay for all the services in our salon. You can choose the amount for your gift card, making it a personalized and flexible option. Also, consider adding a heartfelt message to make it even more special.
Vipul Chudasama Academy Redefines the Future of Hairstyling with the "VC 2040 Collection – Not Just Hair"
"How to nail Shahid Kapoor's hairstyle and beard from Jersey"
"You need to stop making these hair washing mistakes, according to 3 experts"
"Conquering The Industry, One Hairstyle At A Time"
"Curly Hair Care 101: Expert tips and tricks to define and enhance your curls"
"Makeup Artist Pooja Chudasama On Bridal Makeup Trends, Mistakes, And More"
Vipul Chudasama Academy Redefines the Future of Hairstyling with the "VC 2040 Collection – Not Just Hair"
Hours
All Days: 11:00 am — 8:00 pm
Location
Jasmin House, 1st Floor, Pali Mala Road, Pali Village, Pali Naka, Bandra west, Mumbai, Maharashtra 400050
Hours
Mon to Fri: 9:00 am — 6:00 pm
Sat: 11:00 am — 6:00 pm
Sun: Closed
Location
Jasmin House, 2nd Floor, Pali Mala Road, Pali Village, Pali Naka, Bandra west, Mumbai, Maharashtra 400050